media="print" href="print.css" type="text/css" rel="stylesheet">
Truk Lagoon: Answers To Frequently Asked Travel Questions

Current Time in Chuuk, Micronesia

:



The Federated States of Micronesia (FSM) has four states, each including a main island as well as dozens of smaller islands, spread out over a million square miles of the north central Pacific. The four states are Pohnpei, Kosrae, Chuuk, and Yap. The federal capital is located at Palikir, on the island of Pohnpei. The FSM is a constitutional democracy and part of the Compact of Free Association with the United States.



Weather -

FSM has a tropical oceanic climate that is consistently warm and humid. Most days it is around 81°F (27°C) - Temperatures may reach 90°F (32°C), and can fall to 70°F (21°C).

Money - The US dollar is the currency used in Chuuk. There are US banks offering basic banking services. It is best to bring US dollars with you as Money Exchanges may be unavailable.

Electricity - Chuuk utilizes the US standard 110/120V, 60Hz.

Language - Chuukese is spoken in Chuuk, but English is also the official national language and most people speak it well. There are eight major indigenous languages of the Malayo-Polynesian linguistic family spoken in the FSM: Yapese, Ulithian, Woleaian, Chuukese, Pohnpeian, Kosraean, Nukuoro, and Kapingamarangi.

Cultural Etiquette - The elderly are respected and held in high regard in Chuuk.
Dresses for women are expected to cover the thigh.
Swimwear for men and women should only be worn at the resort beaches and on the dive boats.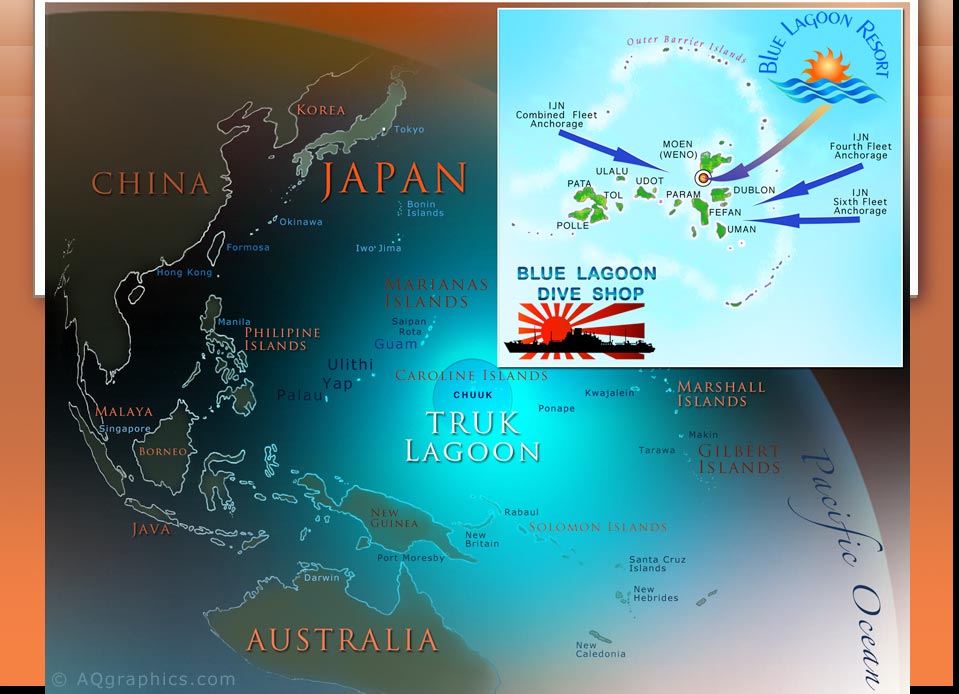 For More Information Visit Our Site Map:


Truk Lagoon Map Designs and WEB Site Production : www.AQgraphics.com
Copyright : Aqua Graphics, Ft. Lauderdale FL USA - All Rights Reserved.